Napoli Eden. It's an idea, it's a specific one, it's a project. The space is the historical one, actual, unspeakably fascinating, and also complex, of the center of Naples, fundamental pivot of the metropolis, of myth and reality, of the myth that tends to become a concrete object and of the reality that turns into drama, in tragedy but also in a sublime seduction and in an endless contemplation, among stones, smells and tastes. The idea and project for this edition of Napoli Eden is that of dissemination in squares, streets, alleys and places of splendor, made with ordinary tools in materials and technique, brought to artistic vitality and removed from the destiny of death in a landfill or warehouse. It is an invention of an artistry, made of aluminum and other manipulated materials, transformed into works of art, colored, illuminated, that challenge architecture, in an idea of contemporary baroque, in its essentiality, with no center and no suburbs, but a great and widespread centrality, which tends to abolish the real concept of periphery, in a modernity that goes beyond the concept of perspective and turns it into a great theatricality, which tends to indicate a path in its defined chronology of hope in which what is today is a stage, of an itinerary of joy and happiness.
It is the way in which the utopia of art translates its non-place, that in fantasy, in reality, in material, or in what does not serve a specific need, but teaches the beauty of the gesture, of the gift, in a good city for everyone and not a home for anyone, so it is thought that this "experiment" can and should be extended to the thousand places of Naples that are beyond the historic center and are waiting, in the short term, to pass from the aridity in which they were conceived and desired, in a abysmally way into places of identity, into places of devotion to beauty.
This is why we also think of moments of speech, debate, inquiry, because public art is not, must not be an aristocratic, self-referential imposition, but a poem, a dialogue.
Annalaura di Luggo, is the designating and designated architect of this Christmas observation that does not want to be drowned in rhetoric, but is proposed as a litmus test that may put together the present-past, the present-present, the present-future, because who dominates must be life, faith, hope that is a way to remain in tradition or classicism, with experimentation, with innovation, otherwise only folkloristic traditionalism and mortuary classicism will resist. In the city of San Gennaro, of Pulcinella, of Raimondo di Sangro, of Benedetto Croce, you must be able to see far and hear from a close distance, not to stumble and not to err in vain. This is why the emblem of Annalaura di Luggo is an eye, an iris, a pupil, a real view.
Francesco Gallo Mazzeo

7 December 2018 - 18 January 2019
Palazzo Nunziante | Fideuram Private Bank
Curator |
Francesco Gallo Mazzeo
Coordination
|
JUS Museum, Napoli
Technical director
|
Luca Pasquarella

Partner |
CIAL (Consorzio Imballaggi Alluminio)
Luca de Magistris Private Banker Fideuram
Patronage
|
Comune di Napoli
Assessorati alla Cultura e al Turismo,
alla Pubblica Illuminazione
ai Giovani e al Patrimonio
Trìunphus è
was conceived as a place of transit,
imaginary and real, in which aluminum waste becomes
a
sui generis
house, a place of purification, with its own
precise architecture that interacts with the context of
the environment, enhancing its own difference which is also
a contemplative moment of the glance that slows
down the time of the crossing of places making it more human.
Because the work of art, like urbanity and architecture, makes it
familiar to the nomenclature of collective life with its signs
that is made up of a thousand and one singularities, from that
chorus that enhances the culture of belonging and
of acceptance. An open work, as we can define it, to which
each of us gives our own virtual contribution of completion,
which is never complete and as it is a temporary installation
we are convinced that it will leave a regret, a sweet moment in the party.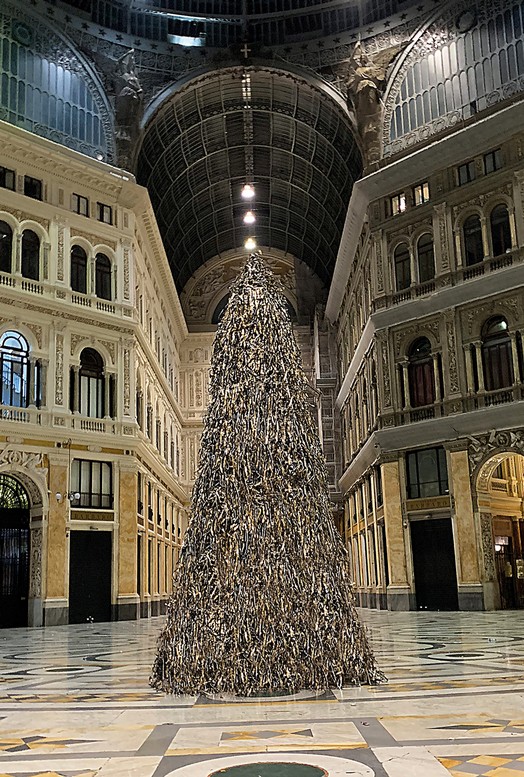 Pỳramid
is the mimesis of a geometric Christmas tree,
not at all competitive with the traditional tree,
however, it adds an idea of respect of the nature with a double meaning,
that traces the footsteps of a world that respects itself, because
everything is held, in a special production of oxygen that is not
mechanical, but conceptual of a land that must not be forgotten
but must enter into the mentality that everything is transformed
and in this becoming, is the becoming where we all can stand. On its
top there may also be a comet star indicating
a way, were we can find the biggest Neapolitan parlor
of always and of new times. Because there is no other way
to weld tradition and innovation, persevering and being reborn
brings art, creativity available to all and this
pyramid, tree, arcane symbol in many ways that brings
in an auspicious version to reawaken the idea of a comfortable city
even where cold metal is the master, because what counts is the idea.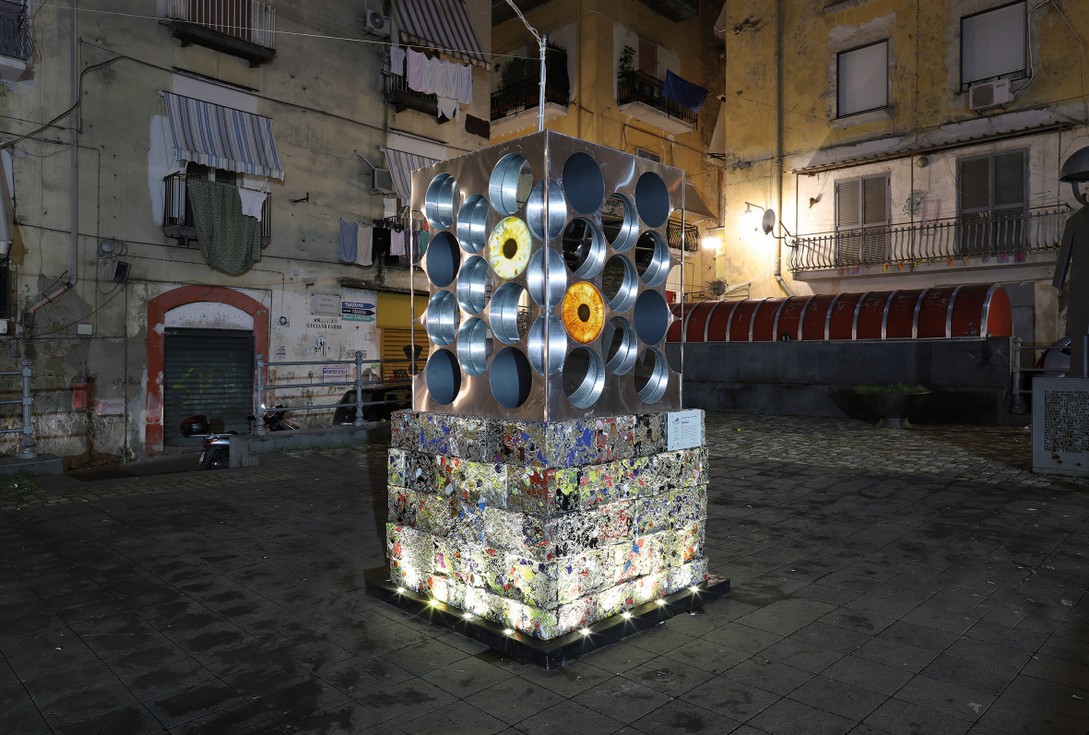 aluminum, mirrors, plexiglass, digital photo
Gèminus
is the plastic, objectual result of a large
human, artistic performance, performed with the camera
fixed on the eyes of those who can see, to become,
inhabiting the place, visible exhibition, mysterious form of a
affirmation of the light, of the shadow, in a human story
that unites elements of tragedy and existential drama,
even if everything can be transformed in different ways of relating
with the world, through touch, smell, hearing and a particularity that
enjoying the green, the yellow, the blue, manages to be a
complete humanity, of strengths and weaknesses, of impulses and virtues, exactly
equal to the one that faces the alleys that give onto this beautiful square.
Becoming an installation, with a chaotic basis of aluminum fragmentation,
crushed and pressed, it becomes a place of common union,
kept by the same intermediaries, because it was made after consulting them
and photographed, to confirm the exit of not being there, in being there.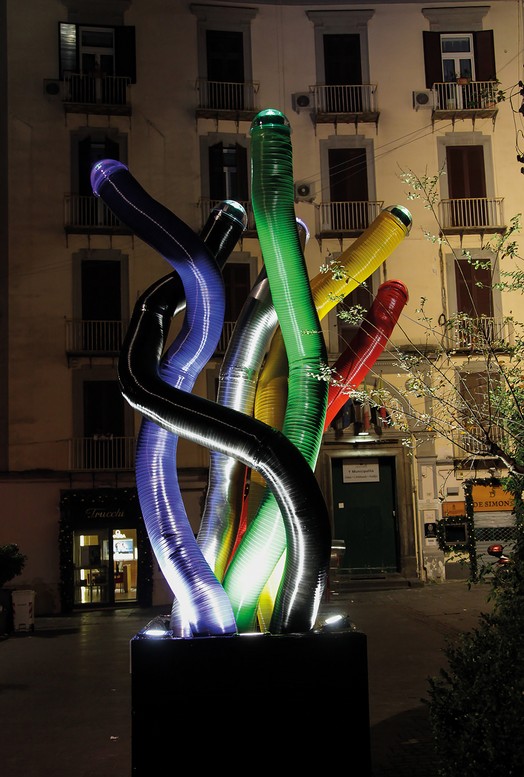 Harmònia costituisce una metafora di tutta l'operazione
artistica, ambientale, architetturale, di Napoli Eden, in quanto
nella "finzione" dell'albero metallico si racchiudono i
motivi fondanti di un'opera d'arte, concepita con criteri
poetici, di cui sono componente fondamentale gli scarti dei
processi produttivi (nel caso in questione quelli dell'alluminio che
accompagna la nostra vita quotidiana, diventando quasi invisibile,
tale è la sua endemia nella nostra vita e nel nostro tatto).
Scarti produttivi che sono i parenti "poveri" delle raccolte
differenziate, in quanto surplus degli stampi, oppure errori
produttivi e per questo si presentano con un lindore che nessuna
discarica, seppur differenziata ed efficiente, può assicurare. Un'alberatura
verticale: il messaggio è quello positivo che ogni nostra
azienda può produrre positività e che gli scarti sono ricchezza che
utilizzata nel linguaggio alto dell'arte, diventa esemplare e stilistica.
I was happily inserted In the artistic "garden" of Annalaura di Luggo. The involvement of the students of the Fashion Design Course of the Academy of Fine Arts of Rome, which I held, allowed a profitable participation in the Napoli/Eden project of which Lux! represents a singular appendix. The concept of recycling and reinvention that is the basis of Napoli/Eden has stimulated the creative insights of the entire course: when the first roll of aluminum, almost two meters high, arrived, we were amazed and fascinated by this unusual material for our work. We began to unroll it, to cut it into pieces, becoming familiar with the material, "metallic but ductile". The result was a material, physical and emotional contact. Our hands have cut themselves out for the sake of handling it. But little by little a special relationship was established between "us": "it" reacted to our requests and was modeled in an appealing, unusual way. To create this collection I proposed a research on the installation carried out by Annalaura di Luggo for Napoli/Eden and on sculpture dresses, stimulating "creative encounters" between fashion and art. The understanding created between the instances of Napoli/Eden and the young designers of the Fashion Design course saw the birth of 21 wonderfully made dresses that, in Lux! came to life through an exuberant fashion show (held in the evocative setting of Palazzo Nunziante) coordinated by the brilliant Neapolitan artist, who sealed the event with an unexpected appearance on the catwalk: from which, as in a dream, she appeared with a wheelbarrow full of aluminum scraps. The same scraps from which Napoli/Eden was born and all that was generated from this intelligent and engaging project.
Graziella Pera
ACADEMY OF FINE ARTS
, ROME